PTI & Off-Hire Services
We carry out more than 150.000 PTI's per year for all deep- and short sea shipping lines at more than 50 locations throughout Europe.

A pre-trip inspection is carried out before a reefer container will be released to the customer of the shipping lines. This inspection includes testing for structural damages, cleaning of the reefer box and checking the operation of the reefer's machinery.
To define a 'pre-trip inspection' (PTI) of the reefer: all technical unit functions and possible visible damage of both reefer unit as well as the generator set will be checked according to the specifications of the manufacturers and shipping. As soon as a PTI has been carried out and all of the detected damages and/or malfunctions have been taken care of, the reefer unit will be ready to be handling export cargo.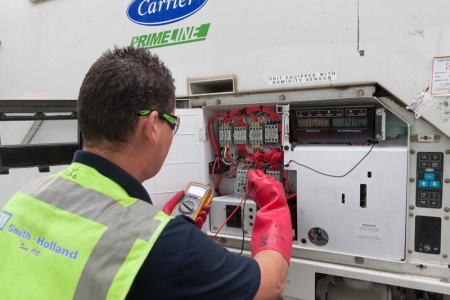 Off hire services
When a lease agreement is terminated, the reefer containers will be returned to a lease depot to be inspected for damage, in according to the inspecting criteria of the lease companies. In addition to the inspection, the reefer machinery will be subjected to an off hire inspection to assess the condition of the refrigeration machinery and whether repairs are required.
When a repair estimation has been completed, a damage notification will be issued providing an estimate of all items that will be allocated to the account of either the shipping line or leasing company. Not until a damage notification has been approvedby both parties, the reefer container will be repaired.